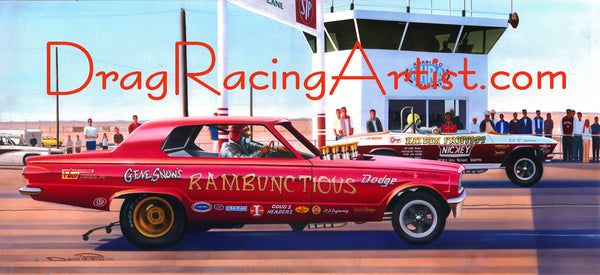 "Texas vs. Calif. n Amarillo" Gene Snow vs. Hayden Proffett.... Drag Racing Art
---
---
is back-ordered. We will ship it separately in 10 to 15 days.
---
---
Limited-Edition of 350 (13"x19")
Signed and Numbered by the Artist.
In Amarillo Texas, spring 1967, a match race was set to settle who had the "Baddest" Hot Rod west of the Mississippi, it would be a Texas vs. California shootout.
Representing the Cali state, was Hayden (I race for a) Proffitt, and his Roadster style Injected Corvair. Fresh off his stomping of the boys at the biggest Funny Car meet ever at Lions, Hayden took the Corvair to Texas, to shoot it out with the one guy who wasn't at "Lions." 
Gene Snow, representing the Longhorn state, had been virtually unstoppable in his ever evolving 64/66 Dodge Dart. Gene was ready to settle the score and prove who had the quickest draw! 
It was a 2 out 3 match race, and in the first round, Snow laid down a 8.89et to Proffett's 9.06. The second round was the tightest, as both cars ran identical times of 8.84, but Gene's quicker reaction at the green assured him the win...
To keep the fans entertained, the two men decided to run the third round, even though Gene had won the shootout. Hayden won the third pass as Snow's trans let go midtrack. 
If you ever wondered why Proffett cut the roof off the little Chevy, the answer is simple. He couldn't fit in the car and sit up straight with the roof on, he had to crotch over to drive. Easy fix, he removed the top and raised the roll cage so he could sit-up straight and comfortable... 
These two cars are icons in the sport, with Snow's car now enjoying it's retirement at the NHRA Museum...    
---
Share this product
---
---