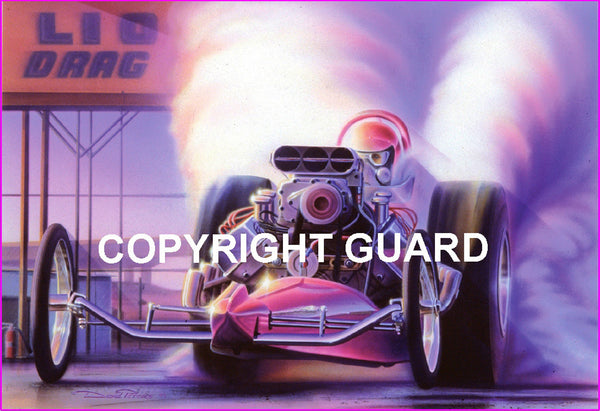 "Purple Haze 1967...."Purple Gang" AA/FD, owned by Ronnie Rapp, Vince Rossi and Chayo Maldonado and driven by Gary Gabelich. ..Drag Racing Art
---
---
is back-ordered. We will ship it separately in 10 to 15 days.
---
---
Limited-Edition of 850 (28"x22") signed and numbered by the Artist..
.As seen
in the DVD series " Lion's, the Greatest Drag Strip" in the Ronnie Rapp interview ..
The Purple Gang" AA/FD with Gary Gabelich (minus the plume) behind the wheel..
This painting depicts one of Southern California's AA/FD
heroes
, as he demonstrates why So Cal was so smoggy in the late sixties and early seventies, as he "Boils the
hides
" at lions Drag Strip on a late afternoon
This surrealistic image covers the complete Violet spectrum. From the amber colored sunset, through the cool violet skies, to the glint of light off a candied purple helmet..
This has been one of our more popular prints, and
therefore
, we only have about 130 or so left form the production of 850. Don't miss collecting this historic classic print.
---
Share this product
---
---